Thinking about an unconventional trip to Venice that ventures away from the usual tourist routes? How about some leisure time in an art centre?
Just a stone's throw from crowded Piazza San Marco, on the island of San Giorgio Maggiore, there's one that hosts exhibitions dedicated to contemporary glass art (20th and 21st century).
Here's the story of my visit to Le Stanze del Vetro.
I reached this peaceful island on a warm, sunny, winter day, together with just a few foreign tourists and some photography enthusiasts willing to capture Palazzo Ducale or Punta della Dogana from a different perspective.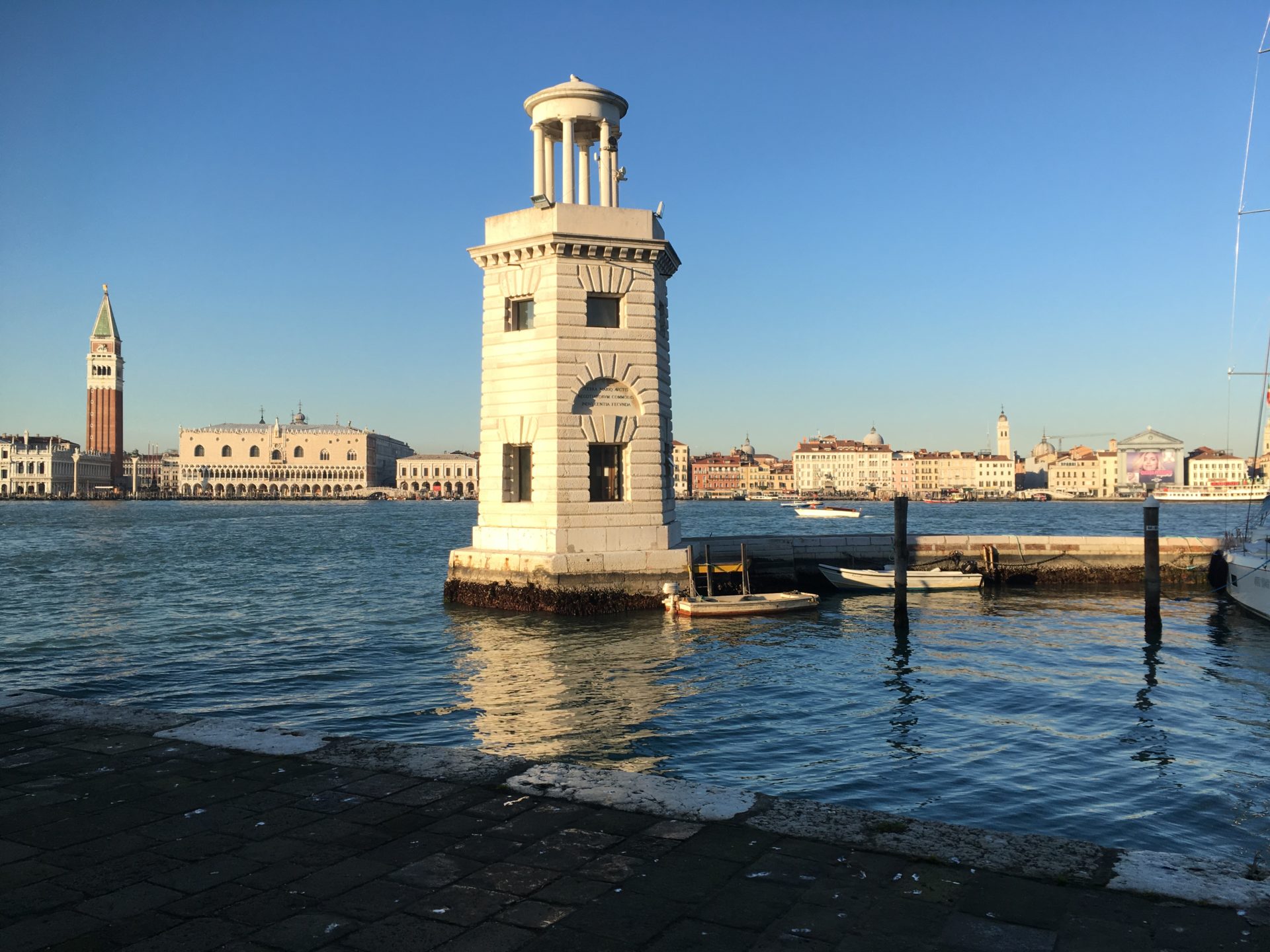 To welcome visitors, in the outdoor gardens of the exhibition centre, the colourful and winding installation by American artist Pae White: a huge sculpture commissioned for the 57th Venice Biennale.
The work is called Qwalala, and its sinuous shape echoes the course of the river by the same name in Northern California. It consists of a 75 metre-long wall made of glass bricks, half of which are transparent and the other half coloured, hand-cast by Poesia Glass Studio, a firm based in the Veneto region. The visual impact in the shadow of San Giorgio's bell tower is pure poetry: the sun's rays pass through the glass bricks creating a play of lights and reflections that change continually, in a whirlwind of colours.
But back to Le Stanze del Vetro. This beautiful exhibition structure is the place where, every year, Fondazione Giorgio Cini hosts both monographic and collective exhibitions dedicated to great masters, designers and international artists who worked with the most renowned Murano-based furnaces. Ettore Sottsass, Carlo Scarpa, Laura de Santillana and her brother Alessandro, to name but a few: all of them sharing a special bond with Venice and its art glass tradition.
I have had the pleasure to visit the solo show dedicated to Thomas Stearns, an American artist who worked with Venini Glassmakers in the early 1960s, creating some original and unusual works of art. The exhibition featured several small glass collections accompanied by panels with information on the origin of such a modern yet unconventional work compared to the local tradition of the time.
Stearns' creations resemble small sculptures, glassworks characterised by asymmetric and organic shapes with unusual colour patterns. Transparent poetry.
Displayed in impressive cases are the spectacular Sentinelle di Venezia and the celebrated Cappello del Doge series: valuable and unique pieces alternated with lamps and artefacts now part of the Venini collection.
Finally, projected along the dark hallway leading to the exit, images of incandescent glass paste and the fusion process absorb the visitors in an immersive experience, filling their eyes with the shimmering reflections and colourful stripes of this malleable medium.
The next exhibition these magnificent rooms will host is "Venice and American Studio Glass": 155 extraordinary pieces, including vases, sculptures and glass installations created by 60 American and Venetian artists… I can't wait to treat myself to another trip to the island of San Giorgio!
The long-standing cultural project "Le stanze del vetro" is not just about setting up exhibits by international artists who have produced glasswork during their careers. It also includes a series of seminars, conferences and workshops for researchers and artists focused on the history and technology of glass art, as well as on developments in the field. A specialized library has also been set up, complete with the historical archives of the Murano glassmaking companies, mainly consisting in drawings, plans, letters and photos. Its aim is to show the huge potential of glass and bring it back to the centre of attention on the international art scene.
Le Stanze del Vetro also organizes educational activities for families and children, aimed at helping them appreciate such a priceless artistic and cultural heritage.