Chiarastella Cattana's boutique in the heart of Venice is a fine and elegant shop, bright and welcoming: the perfect place to showcase her textile creations. 
Her cushions, bedcovers, bath towels and jacquard tablecloths are the result of an exquisite style quest, both in the use of natural fibers and in the choice of motifs or colours.
The designer, originally from Milan, has been able to blend traditional and contemporary elements in a brand new way, making use of Italy's long standing textile craftsmanship to create modern and trendy products that match perfectly with contemporary interiors.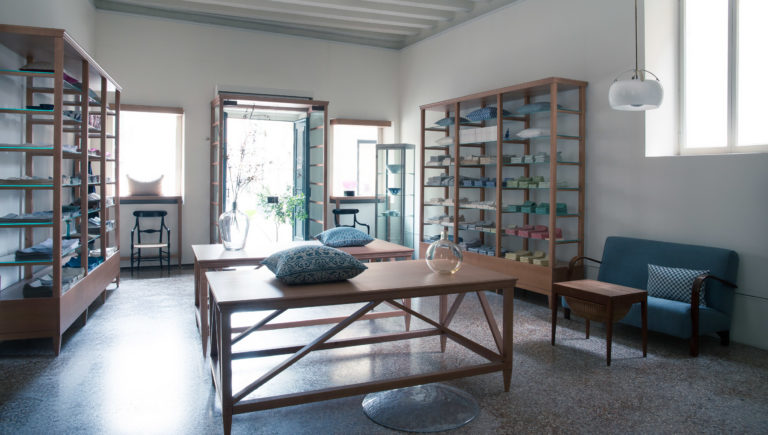 A high-end shopping destination located just a stone's throw from Palazzo Grassi, on Salizada San Samuele among tiny art galleries and gift shops, Chiarastella' boutique is well worth a visit: big cushions with geometric repeats make the ambience look warmer and more comfortable; monochromatic, fine fabric textures embellish chairs and armchairs, while colourful jacquard placemats make you dream of fun, yet elegant, Sunday brunches.
Inspired by natural shapes and classic architectural motifs, her offer is exclusive and timeless, perfect to décor either a villa in the Tuscan countryside, or an ultra-modern Soho attic.
The collection showcased in the Venice atelier is just a small sample of Chiarastella's production. Working alongside international architects and decorators, she puts all her creative energy into bespoke projects.
Customized home décor involves selecting yarns, colour tones and patterns, in order to give the interiors a consistent and exclusive feel.
Monograms and embroidered linen sheets, shade-matching bedcovers and towels, curtains, tailor-made tablecloths: the result is a one-off line tailored to fit the clients' needs.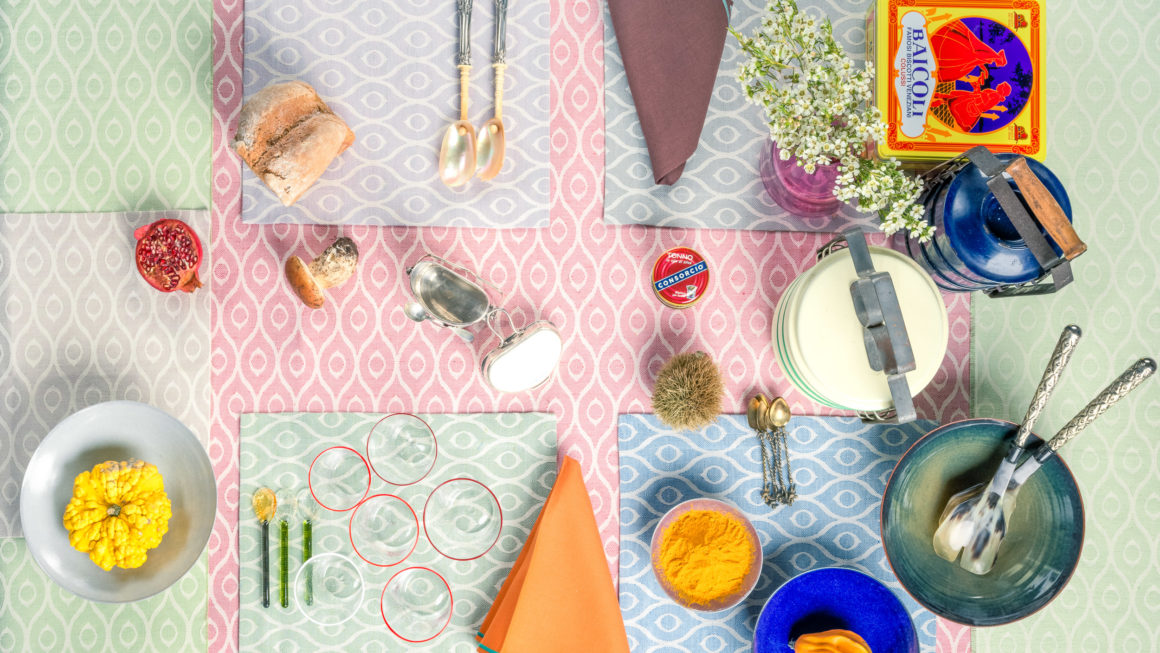 During a brief conversation we once had I have sensed Chiarastella's genuine passion for textile weaving, but even more her enthusiasm for the limitless possibilities of cross-contamination between art, fashion, craftsmanship and décor. Her meetings, projects and collaboration with other designers open windows onto neighbouring worlds which speak the same language.
Her stylistic and creative coherence also stands out in the selection of Yali designer Murano glassware which you can find in her store, showcased to create colour harmony and consonance with her fabrics.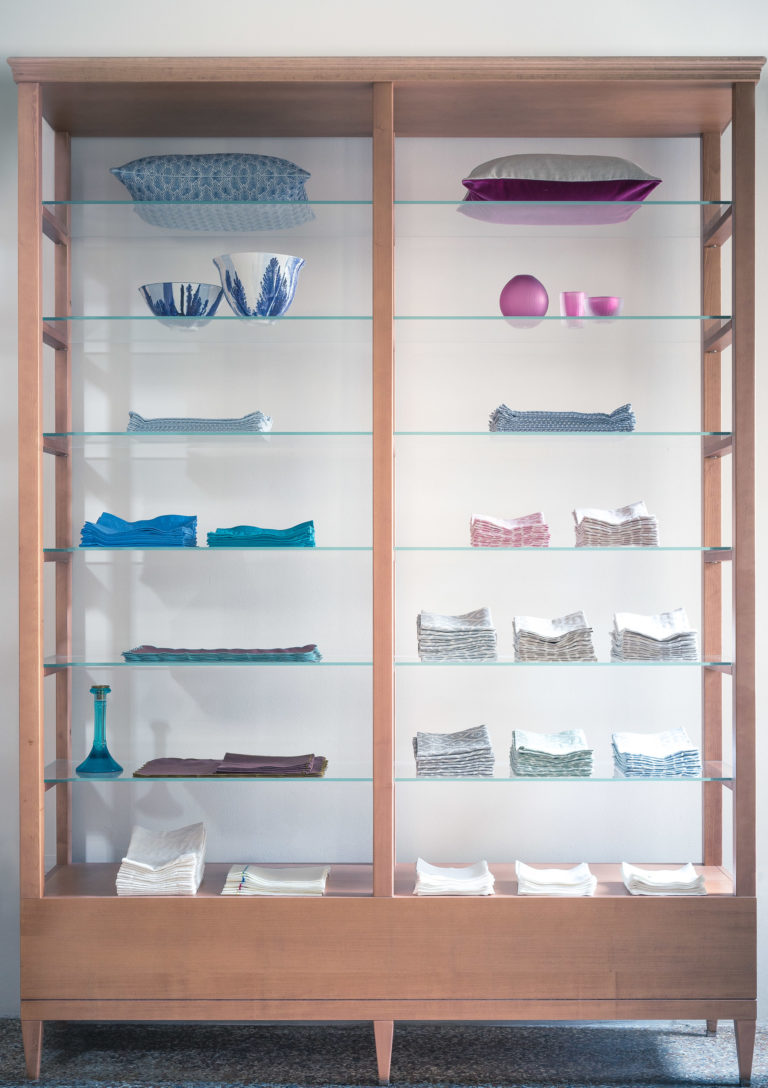 It's precisely with the Venetian Yali Glass firm and the Giorgio Mastinu Fine Art Gallery, just a short walk away from her boutique, that Chiarastella has participated in exclusive pop-up art shows in renowned locations in London and New York, bringing made-in-Italy to the houses of a discerning international public. Such partnerships contribute to strengthening her identity, as well as improving her sense of belonging to a distinguished and elegant market niche, turning into great opportunities to celebrate Italian exceptional craftsmanship and creative genius.
I find the spontaneity and commitment which Chiarastella puts into her textile business truly impressive, and printed in my eyes is the harmony of her fine, airy and refined showroom, a rare jewel among so many mainstream and mass merchandisers.