Hand painted fabrics and lamp-sculptures: originality is at home in Venice and it speaks French!
Today I would like to tell you about two creative French women: they arrived in Venice for love, they have been there ever since. They're called Silvia and Hélène and they manage two atelier which are very different from each other, but united by originality and outstanding colours. Both of them draw on the treasures of the lagoon city as a source of inspiration: one finds her element in glass, the second presses the tones and emotions of Venetian views into her fabrics. Let's discover their stories together and how they interpret the beauty and richness of Venice through their amazing artistic creations.
Let's start by introducing Silvia Finiels, glowing and elegant just like her works.  Parisian-born, she moved to Venice for the love of her husband, and from the beginning she became passionate about making Murano bead necklaces, later she found her niche in the creation of vintage lamps.
Everything starts with research and collecting materials in the glass factories or local markets, glass elements to which Silvia gives new life, developing fine compositions.  Beginning with the recovery of high-quality ancient glass, parts of cups or chandeliers, Silvia designs original and contemporary collections. And so, after an accurate work of grinding and selecting the found pieces, in the Murano workshop her lamp-sculptures are born.
A boutique of unique pieces
The creations of Aventurina Design – this is the name of the brand – are all different from each other and they're not repeatable. Thus real unique pieces!
The glass elements are matched in a chromatic game that is sometimes inspired by the works of famous designers, or takes its cue from places and characters. No matter what the subject, in all her collections Silvia naturally expresses her fine taste, by combining shapes and colours with a strong artistic sensibility. The charming showcase of lamps in Salizzada San Samuele is a harmonious ensemble of extraordinary colours: violet, cobalt blue, opaline, aquamarine, ruby red and all the countless colour shades of glass.  But the atelier in Murano is the place where the Parisian designer feels more comfortable, and that's where she finds the ideas for new and original collections.
Fabrics or Kandinsky's paintings?
The other French heart is that of Hélène Kuhn. Born in Nancy into a family of musicians, when she was still quite young she met the Venetian painter Bobo Ferruzzi. She followed him to Italy finding her chosen residence in the city of Venice. Here, surrounded by art and encouraged by her companion, Hélène started to paint fabric and to learn printing technique. Her investigative journey to study colour soon grew into an all-encompassing artistic and professional activity. In a short time she became an artist appreciated by a large international public with work on display in important textile art shows in Paris, Milan and New York.
Cotton, silk, velvet, linen: the fabrics painted by Hélène seem to come alive. And they converse with the city taking up the gold of byzantine mosaics, the designs of the pavements of St Mark's, the sinuosity and the reflected light of the waves on the lagoon. The emotions of the views of Venice are fixed on the cloth with colours.
Her colourful fabrics impress with modernity and great chromatic energy, like Kandinsky's paintings they show abstract patterns and geometrical shapes creating stunning sequences. These wonderful hand painted drapes can become paintings, screens, tapestries, kimono or any textile decoration for the house. Are you curious to see them? Hélène Ferruzzi's atelier is located within walking distance to the Peggy Guggenheim Collection and I assure you it is worth a visit, if only to meet and have a word with the artist in person!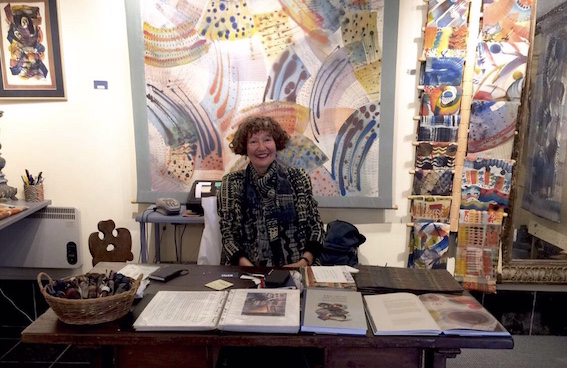 Photo credits: Silvia Finiels, Hélène Kuhn