Betting on the design. A blank sheet to express yourself competing every time with something new and unpublished.
Born in 1950, native of Pianiga, a small village of Venice countryside, Enzo Berti is a highly regarded and prolific freelancer in the design world. A strong aesthetic sense and his artistic flair made him stand out from an early age, even from the very first items he designed. Aware of the creative possibilities of industrial design to set his imagination free, his path was set. Berti's CV doesn't need any comment: dedication to the profession and a long career dotted with successes  make him a respected designer. He boasts collaborations with numerous leading companies, among which are Artemide, Bauline, La Palma, Torremato, to name just a few, designing furnishings, seats, lamps and sometimes playing the role of art director too. Under his belt a Compasso d'oro and an honourable mention for his innovative concept of a piano. Yes, you understood correctly, a piano!
But beyond the single products it's the design philosophy that distinguishes Enzo Berti's work. Namely his innate ability to synthesise form and function and the insight to always find a new way of looking at things.  
I'm glad to take the point of view of one of my countrymen designer and get to know him better through this short interview.
From the Academy of Fine Arts in Venice to the first projects of remarkable jewellery, your background is mainly artistic. What is your relationship with art and craftsmanship?
I make no distinction among art, craftsmanship and design. It's a thin line, for me it's natural to shift from one to the other. My approach to design has always been the one typical of sculpture, that is to design unique pieces that can be reproduced in series. In my jewellery for example, design and craftsmanship melted in one single experience. Even today, indeed, art and design are very close, all that matters is quality.  
In the Seventies you chose to devote yourself to the industrial design, can you tell us something of that period?
Actually, I didn't make a real choice, some things happened almost by chance. Barely eighteen years old, while I was still studying at art school, I won a contest of the magazine Abitare for the design of children's furniture. For me it was the chance to challenge myself with something different. Everything started maybe from there, from the awareness that an idea, through design, could become a new product.
The Eighties, then, were the period of the design boom, a moment of great stimuli.   I was among the founding partners of Magis, a company that was born not from a single product, but from a philosophy. The philosophy of "temporary products", convertible and capable of adapting to the changing house, a concept that projected the company towards the future of design.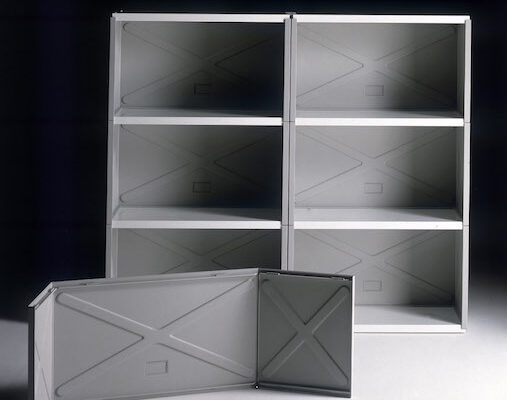 What does design represent (and where is it going) today? Don't you think it is so popular that it has lost its identity?
Nowadays there is no longer the same desire to think about the function, design has become an exercise in style. I see lots of standardization and little effort. Often the main objective is to be aligned with the market trends and there is not the will to get in front of a piece of paper to express yourself.
Which famous master of the first generation of the Italian design particularly inspired you and which designer you follow nowadays with interest?
There isn't a specific name; mainly I was inspired by the approach to design in those years.
And looking at today, I think that many of the designers of my age decided to become industries: they have big studios and maybe they lost sight of the mission. I also had the chance to enlarge my studio, even to move to New York, but I preferred to stay true to my passion for design, that is what I do best. Otherwise I would have had to take out creative energies to devote myself to public relations and marketing. I'm not a business man, I mostly feel like a "self-employed cultivator" of my profession.
Your works range from seats to lamps, to unique pieces, even the design of a piano. Is there a project/product which you are particularly fond of?
I don't have a favourite product, rather I'm very much attached to my way of working. For me every project is an opportunity to re-think and challenge things. A bet.
For instance, the piano I designed for Zanta. It was a huge work, we had to reconsider the route of notes, not only the aesthetic but the entire mechanic of the piano that over the years nobody dared to touch. The outcome is an object that is having a great success all over the world, because it has a completely different sound
Smart working and design. How the needs of the new working spaces and the function of home and office furniture systems are changing?
I recently ended an experience as artistic director for an office furniture company and I must say that for a few years already the architecture of spaces (and furniture therefore) has changed and made way to flexibility.  There is no more the distinction between home and office, shop or meeting place. The way of inhabiting spaces has changed and consequently also the furniture must meet these needs by having more features, more purposes.
Finally, in your last project you experiment a new material: Murano glass. How do design and artistic Murano craftsmanship interact between them?
In this project I thought to a completely innovative glass rod. To create the collection a new glass "spinning" technique was exclusively developed with patent pending. This was another bet. The dialogue with the artistic glass producers was not so easy, but I found a young master who wanted to experiment on something new and original. Now the challenge is to meet the demands.
Enzo Berti smiles at this point, once again he has succeeded in imagining something that did not exist before. And as long as he enjoys turning ordinary design into new things with his pencil, well, Design is going to be a blank sheet to be filled!
Photo credits: Studio Enzo Berti
Article cover: Leonardo chair designed for Bross Italia