Talking about art and design, fine craftsmanship and objects that represent us.

Creator of Le Morandine, an elegant collection of candles and vases inspired by the famous Morandi still-life, Sonia Pedrazzini is an eclectic and passionate designer.
Her projects range from furnishing accessories to jewellery to perfume packaging. From our short telephone chat I was aware of an extraordinary sensitivity and plenty of enthusiasm for her creative job.
As she says, as well as the product there are lots of "human things" that happen during the creative process. For example, the opportunity to cooperate with craftsmen or other inventive people, creating synergies with photographers, stylists and 3D visual designers. And every new interaction is an enrichment.
Her idea of design is of something that enters deeply into people's lives, a design that must create relationship, emotions and last over time. And thanks to her artefacts Sonia was able to get in touch with students and art schools even in distant lands… proving that the design objects can also transmit so art and culture.
But let's come to the questions of this short interview…
How was Le Morandine project born, and how has it unfolded?
The idea of inspiring myself with Morandi started in 1998 when I proposed a collection of decorative candles for a company I was collaborating with. The idea was discarded, but, as it seemed appealing to me, I decided to self-produce it. After a period of studies, readings, visits to the Morandi Museum and the house of the artist in Bologna, Le Morandine was born.
It's not a simple citation of the Master, but a real project of relational design where people interact with the objects creating their own composition. Hence the slogan: "Create your own still-life", suggesting that we can all become artists of everyday life by letting ourselves be inspired and guided by these objects
A series of elements arranged at will to create a three-dimensional still-life, as if we were the painter who placed the objects before capturing them on canvas.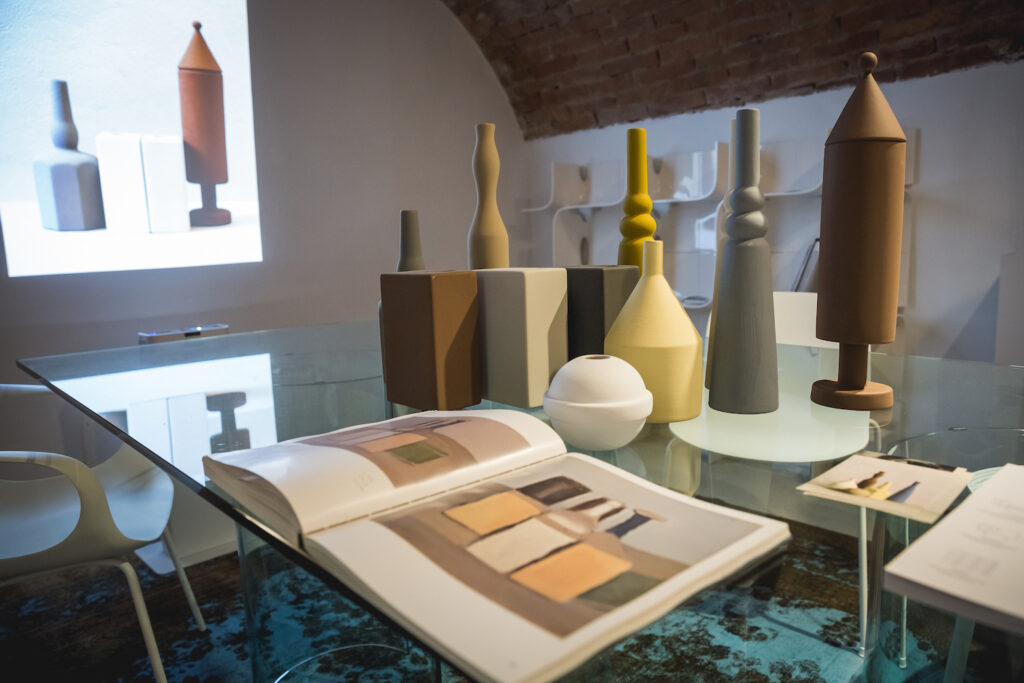 Mine is a meta-project that starts from Morandi but goes beyond, becoming a vessel of relationships and new partnerships. At this time, for example, the expansion of the collection gives me the opportunity to work with the historic knitwear workshop of the Farella sisters in Capri to create cushions and throws.
Your well-known project is inspired by the works of a famous artist. What is the common ground between art and design?
As a personal passion I have always been interested to art and often in my design activity I have been influenced by art. So – when some ideas for a decorative candle collection were requested – the reference to Giorgio Morandi was immediate. From the beginning I approached this work as a comprehensive project, the link between art and design, that could even evolve over time thanks to the demands and interactions between the objects and their users.  As the project found approval, I realized that the meeting between art and design could be really very fruitful. Art is the spark, the creative drive. The output, though, is not always predictable, it depends on the sensitivity and the ability to put an inspiration into a product.
More and more often people are looking for unique pieces and limited edition collection. How do you explain this need of exclusivity?
I think that an exclusive object or in limited edition, not necessarily expensive, enriches the spirit, makes us reflect, leads us to consciousness and care. A unique piece belongs to us if it touches a chord and connects to our personal history. It becomes then an emotional object with which we build a relationship.
This is the case of Le Morandine, where the compositions, all of them made to order, can be customised in colours and shapes. Every user can change the layout of the elements or even introduce other objects, to create in this way a very personal and unique work.
Le Morandine, ceramic vases, design Sonia Pedrazzini.

What is the future for Italian craftsmanship? Can you name three successful Italian artisan business among your favourite?
When craftsmanship is open to new ideas and wants to evolve, then it has a great future. I'm sure that Italian excellences are going to be more and more successful, it's their time. It's difficult to select only three names, in Italy we have wonderful artisan companies and many are among my favourite. Besides Venini, just to name a few: Bottega Ghianda, Morelato, Fonderia Artistica Battaglia, Salviati, Rubelli, Dedar…
These are all fine craftsmanship companies, related to traditions and fine workmanship, but at the same time open to cooperation and exchange with designers. Exchange that results in a mutual benefit: for the company a constant connection with the contemporary world, and so to renewal; for the designer the opportunity to gain cultural and technical expertise and to experiment with materials and workmanship.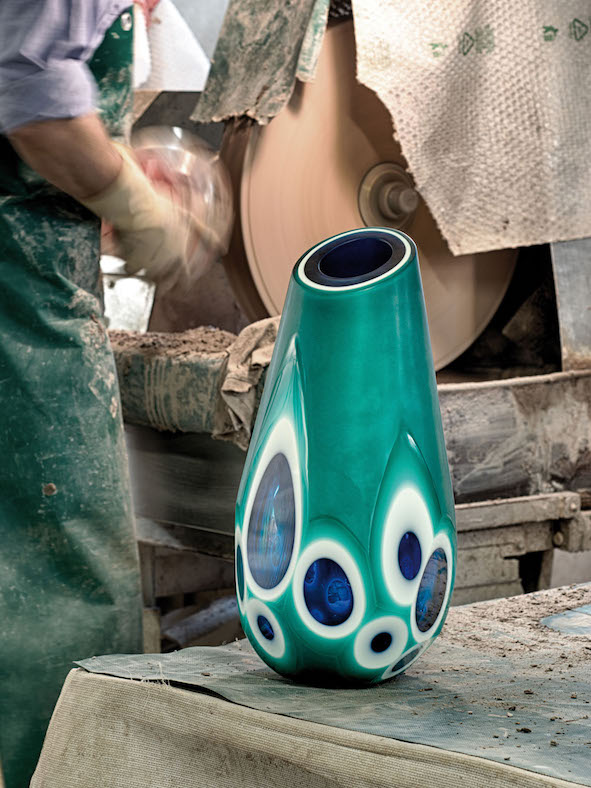 Whether jewellery or household items, we use accessories to express our character: what's the point of view of a designer?
It's true, the same as with clothes, the objects we use also say a lot about us and people are more and more aware of this. But perhaps, nowadays we give too much emphasis to the concept of "expressing character with objects".  We love design objects, accessories, jewels, clothes but – we must confess – we love above all to appear through them. Depicting ourselves through objects is becoming a narcissistic exercise and it doesn't reflect our authentic personality.
Instead, standing out should mean conveying a genuine message, in which we believe. And not aligning ourselves with trends or owning some objects only because they are a status symbol.
What did you miss the most in 2020? Tell us about the projects for this new year.
In 2020, I believe like all of us, I missed social life, freedom to move and its impact. However, I appreciated some aspects of this isolation and forced slowdown. I felt it as a time for restoration, appropriate to my thoughtful nature.
My projects for the new year are related to both my personal growth and my work. With regard to Le Morandine, it's a work in progress that occupies a large part of my time and there will be some news. As a packaging designer, I have to create some products for the food and beauty industries. I started new contacts with companies and I'm following some projects related to my artistic research, preparing for an exhibition and for taking part in a festival, but it's too early to talk about it. After a stand-by period everything begins to flow again. That's life.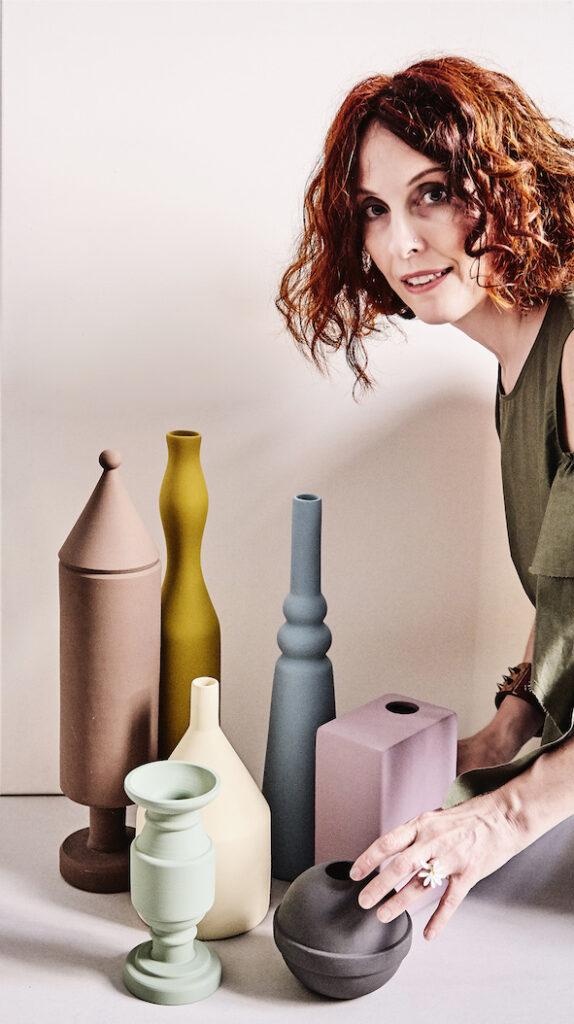 Photo credit @ Le Morandine, (if not differently specified)
On the cover Photo: Fabrizio Polla Mattiot.