Paola Paronetto's exclusive ceramics struck me since the very first time I laid eyes on them: a combination of raw material and decorative fineness. They look like they are made of paper, so one's first instinct is to touch them and feel their consistency. Indeed, they are partly made of paper, as the latter is one of the ingredients of the artist's beloved ceramic mixture: paper clay.
I often have the pleasure of admiring her unmistakable Cartocci in furniture showrooms, or home décors magazines featuring finely decorated houses and apartments.
I wish I had been able to meet her in person and visit her workshop in the countryside of Pordenone. Unfortunately, it has not been possible due to the many exhibitions and to a busy schedule which requires her to travel a lot. Nevertheless, she has kindly agreed to answer some brief questions to let me know a bit more about her work, and especially about the philosophy behind it.
What were your expectations at the beginning and which was the first piece you made?
Paola Paronetto: "At the beginning I had no expectations, I just wanted to have fun. The first pieces I remember making with greater joy is a series of pots made using San Sepolcro clay".
Paola started working with ceramic as a young woman, for fun, and today she exhibits her works in several galleries, both in Italy and abroad.
Explained this way, it seems so simple. Yet, the artistic career of Paola Paronetto is the result of a continuous improvement made possible by training courses taken in the most renowned Italian ceramic schools in order to refine the technique and the quest for shapes.
Her artistic production reflects an extraordinary ability to balance innovation and tradition in a style that is unique, delicate and modern at the same time. Her creativity is shown through the use of different materials: from terre sigillate to raku, from porcelain to paper clay. But it's thanks to her renowned Cartocci series that Paola has become well-known and captured public attention.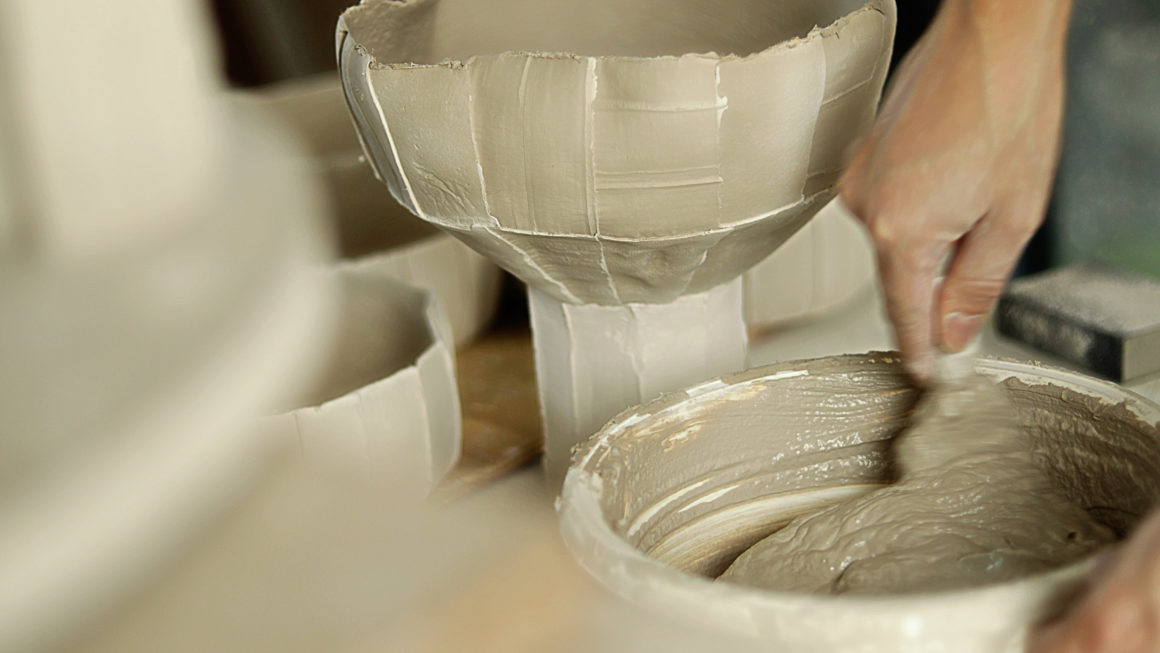 What kind of relationship do you have with your region?
Paola Paronetto: "Well, actually, nature is what really inspires me, therefore I have a much stronger bond with it in general rather than with my native region".
And such a bond with nature is precisely what influenced the evolution of Paola Paronetto's last series of ceramics.
The EGO collection, for example, is a variant of her beloved paper clay series, decorated with flowers, animals and other natural elements. Thus, the Cartocci, which already had a strong personality, look even more unique. Clients can even ask the artist to add their favourite photo onto the piece they choose. Thus, already unique pieces are further customized: a truly distinguished décor option for our homes!
Besides coming up with shapes inspired by the animal world, in January 2020 she created the Bosco and Pistilli collections. Unveiled at the Maison&Objet fair in Paris, these new, exclusive ceramics replicate tree branches and flowers and can be customized, as well, in their heights and/or colour, just the same as in nature.
Ceramic art and décor: how can they be used within the context of modern interior design?
Paola Paronetto: "Nowadays, ceramic is really everywhere: floors, walls and furniture coatings, kitchen and huge tables tops. Ceramic technology has made huge progress in recent years. Luckily, there is a revival of ceramic as a form of art and decoration, as well as an everyday household item".
Technology has definitely allowed for creating new surfaces which can be used to decorate and customize interiors, but Paola's unique ceramics make the ambience warmer and arouse emotions as only art can do.
Have you already experimented or would you like to experiment with other materials?
Paola Paronetto: "No, I don't feel the need to. I am still very much in love with clay".
Can you name any young artist, craftsman you admire, who creates sculptures and home accessories using other materials?
Paola Paronetto: "I admire Vanessa Mitrani for her experimental use of glass and Luke Hope for the pure shapes, poetry and lightness of his wooden items. As for metal, I definitely like Antonio Sciortino".
Well, what can I say? Just thank you, Paola, for sharing your artistic sensitivity with us.