They rise and fall as a school of fish, but they are textile sculptures made of velvet and glass. We admired them with our noses in the air at Venice international airport with the artwork "Nuoto d'aria", a real suspended aquarium. And again hovering in the air over the palace roof tops in the Grand Canal with the installation "No more room on the lagoon". 

Fishes have always been one of Anna Paola Cibin's dearest subjects, she has built her artistic identity through the use of two materials: velvet and glass, combined together with taste and originality.
Beginning with studies in the fields of art and textile design in both Venice and London, moving on to cooperation with Murano glass factories and historic Venetian textile companies such as Rubelli and Bevilacqua, the Venetian artist has pursued her objective with passion and resolve despite difficulties along the way. As a young woman she kept her special canvases under the bed, waiting to be shared and admired, yet today those same works are in the houses of art collectors in Paris, London and New York.
In fact Anna Paola's secret wish came true in 2011 during the Venice Biennale with her show "Velvet Lagoon Velvet". An event where she met one of her first international fans, none other than Pierre Rosenberg, the then-director at the Louvre Museum, who encouraged her to pursue her unique and exciting artistic project. And in telling the story of that fantastic meeting at San Servolo island, her eyes still shine for the great opportunity of expressing and above all seeing her beloved art appreciated.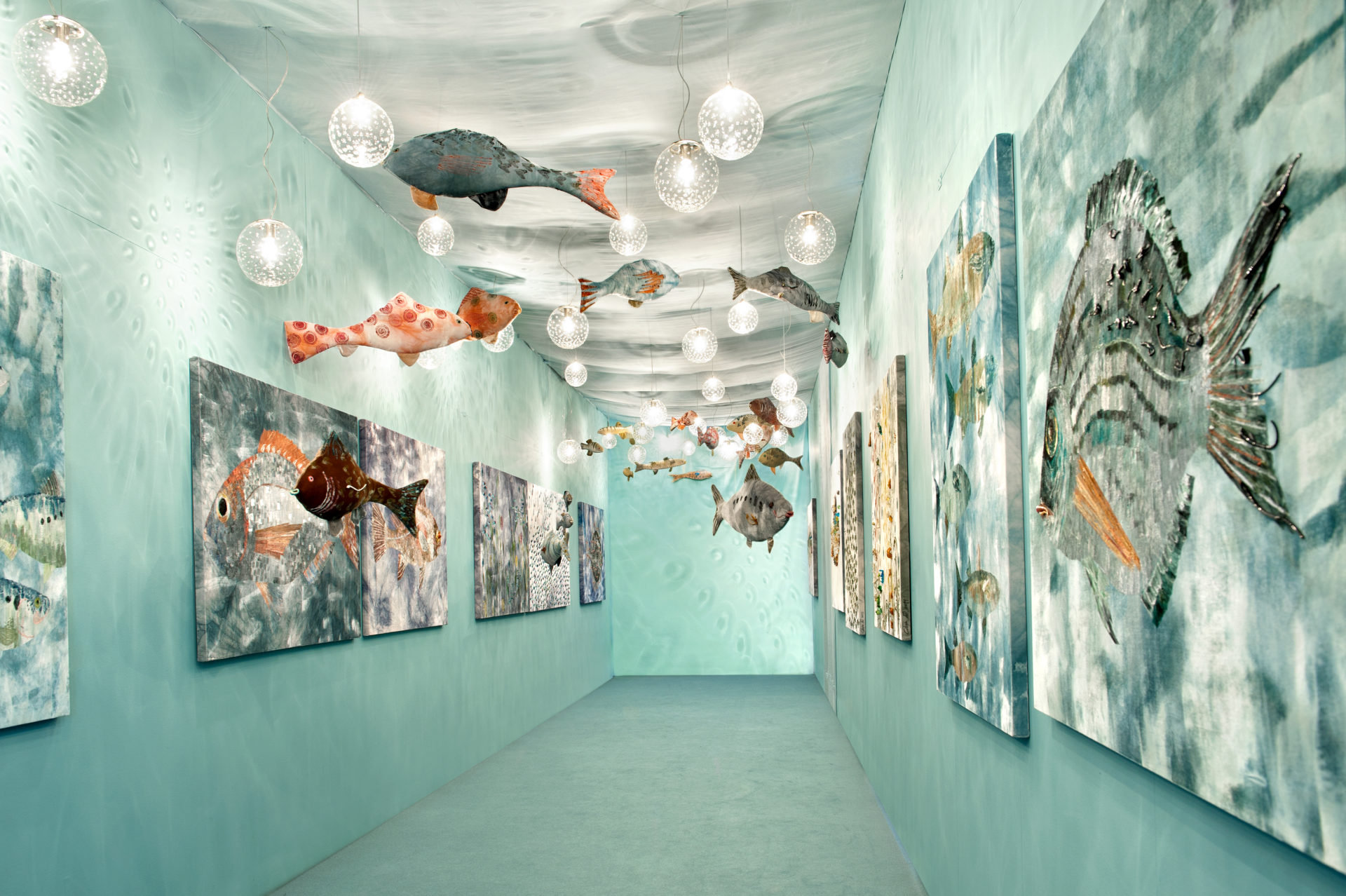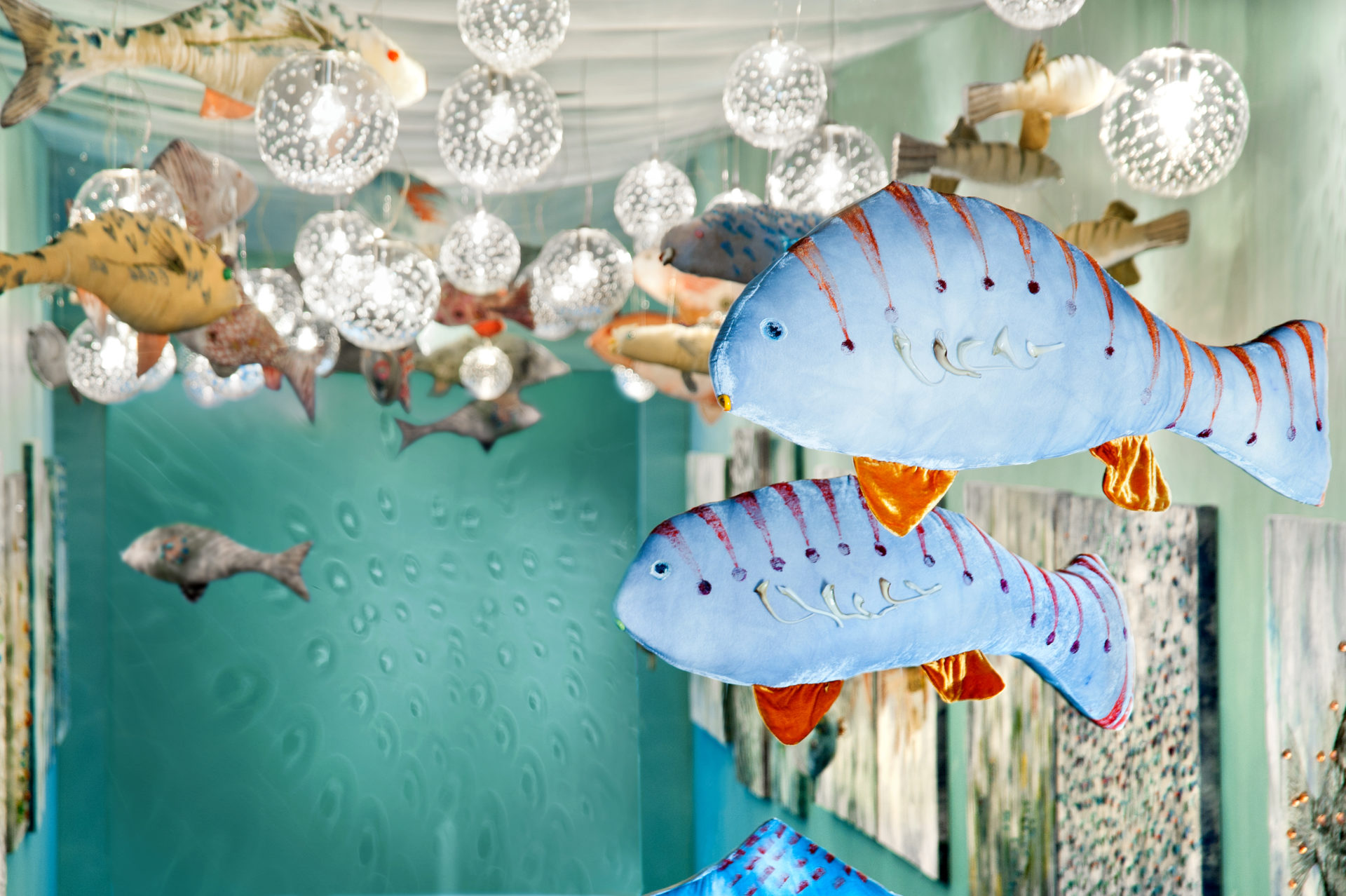 Velvet and glass complement each other
This is my informal meeting with Anna Paola Cibin, who simply opened to me the doors of her memories and of her laboratory, a creative explosion, full of colours, materials and drafts for projects.
She told me the secrets of how she dyes the precious silk velvets with natural powders and pigments, how she uses glass paste pieces, colour brushstrokes and how she applies the Murano glass beads on the fishes' eyes to make them look real. The embossed elements glued on the fabrics give an extraordinary textured effect to her tapestries, while the application of gold or silver leaf makes her creations even more bright and precious.
Anna Paola's art was born from a simple but unprecedented intuition: the encounter between different materials. Velvet and glass complement each other; both have those shades of colour, that iridescent effect depending on the light or observation point that make her works alive.
Anna Paola Cibin is an artist, a designer, a craftswoman. She exhibits her creations in art galleries, she cooperates with prestigious hotel chains that have selected her textile sculptures for their interior decoration, she makes tapestries on request for luxury private villas.
In addition to art works and installations, the Venetian artist has created a series of extraordinary furnishings ranging from screens to cushions: finely made unique pieces that embellish the atmosphere with softness and elegance.
Whether it is a small desk tapestry or an exclusive project for a luxury yacht, Anna Paola put the same passion and attention to details because "the sea is made of many little drops", as she says, and the relationship with every individual customer is important.
The next project? Well, it seems already well defined in her mind, it will take inspiration from her sculptures already on display at the Nilufar Gallery in Milan … a family of Murano glass birds ready to fly towards new horizons!
Photo credits: Anna Paola Cibin
You found this article interesting and would love to know more about Anna Paola Cibin's artworks?