In the mountains of Carnia, in the small village of Comeglians, there is the only hand-tufting workshop in Italy, where a local craftswoman creates original bespoke rugs.
Her name is Silvia Di Piazza and her world is made up of mountains and colourful wool.
Large windows light up the textile workshop, surrounded by the views of the woods of her childhood. Wooden furniture warms the atmosphere of the spacious industrial setting: a cosy workplace decorated with objects that reflect mountain traditions and local crafts. 
The shelves, a rainbow of colours, full of wools dyed in a variety of tones, seem the palette of a painter. But Silvia is a special artist and instead of the brush she uses a strange gun that literally "shoots" wool threads onto the white canvas. And so, tuft after tuft, the frame fills with spots of colour to compose a soft and very original tapestry.
This is the hand-tufting technique, a mix of tradition and innovation where the manual skills of the craftswoman and the technology of the tools meet.
Self-taught craftsmanship
But how was the passion for hand-tufting born? Well, it was almost by chance. In 2009, in a remarkable period of her professional life, Silvia took the opportunity to take over the carpet manufacture business in Comeglians from another entrepreneur. Excited to return to her beloved mountains, she was happy to get back in the game with handmade articles. Initially, as a shop apprentice, she learned the technique by watching the artisan at work. Later, relying only on her instinct and creativity, she learned the art by trial and error: truly self–taught in the creation of hand tufted rugs.
At first it wasn't a bed of roses, Silvia took on different jobs in the morning in order to devote entire afternoons to the new manufacturing activity. Luckily the years of sacrifice and a lot of passion were worthwhile. Today she can finally devote herself full time to her wool "creatures". Surrounded by the mountains and "armed" with her tufting-gun, every day she spends in her workshop makes Silvia feel like the happiest person in the world.
And at moment she is also very busy: her frame already has three works queuing up, and clients are ready to wait weeks or even months to take home Silvia's unique pieces made in Carnia.
Every carpet is like a painting, it has its own story and even a name. Some are made in collaboration with artists and designers for a specific project or event; others are personal works full of memories and emotions.  For instance, the rug of Friendship, a colourful unique piece, actually I should say a piece of the heart, because it bears the names of the dearest and most important people for Silvia, and of course it's not for sale.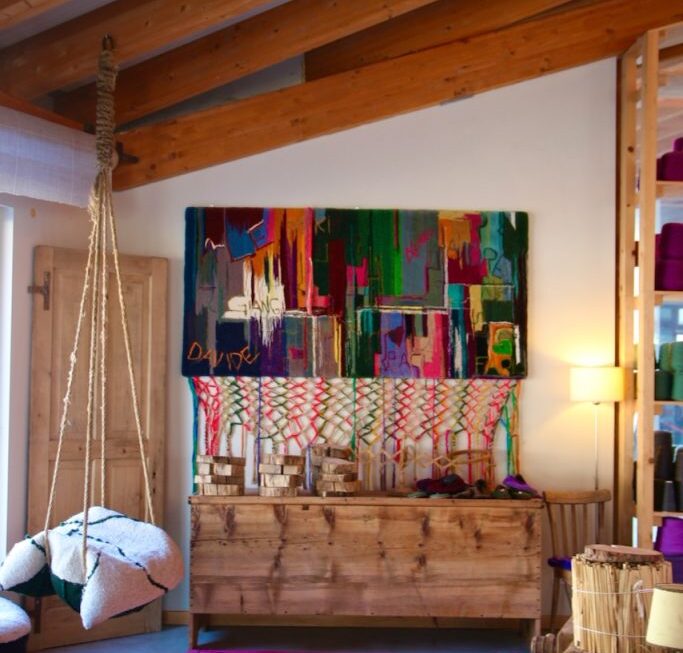 I had the pleasure of seeing Silvia in action during our online meeting when I witnessed the early stage of the genesis of a handmade rug. Are you also curious to discover what's behind the birth of a carpet? Because the next one could be yours.  
Genesis of a handmade rug
At every new order there is a briefing with the customer to select the subject, the shape and the colours.  Then the drawing is screened and reproduced on the canvas, which is fixed to an enormous vertical metal frame. At this point the creative work of injecting the wool starts and it can take either a few days or several, weeks, depending on the dimensions and complexity of the project. During this phase of execution our craftswoman often involves the client again with a video call to show the progress of the work and discuss possible critical points. The carpet, therefore, is born and takes shape day by day including input from the customer.
Although starting from a sketch or a precise drawing, the creation closely follows Silvia's artistic flair, becoming a personal creation. In every project she adds, changes, makes and breaks just like Penelope, she retouches until the last moment and checks even the smallest detail seeking perfection. A close friend has the responsibility of "persuading" her that the carpet is fine and can be shipped. Anyway, everyone knows (including Silvia) that the imperfection is exactly what gives real value to hand-made products.
Artworks to put under our feet
Silvia focuses a lot on customisation, far more than what is found in ordinary mass-produced items. She is indeed a specialist in unique and unrepeatable items, which can give character to the home. Real artworks to put under our feet.
Between one work and another Silvia finds also the time to do educational activities with kindergarten kids, projects in schools to draw the little ones to this fascinating craft technique. "I love working with children: with their spontaneity they make carpet designs without knowing it" she says.  And in fact Silvia's rugs often come to life from kids' imagination. It is the case for example of the first carpet sold overseas, inspired by the drawing of her 5 year old niece that was shipped to a villa in Beverly Hills. And many other times Silvia advises her clients to draw from their children's art to choose a really original subject to be reproduced on the rug.  No doubt it's going to be unprecedented!
How much does happiness weigh?
Silvia's craft can be a heavy manual labour at times, but the fatigue is only physical, certainly not mental. The satisfaction of creating artistic carpets with her own hands goes beyond weariness and Silvia cultivates her passion with great enthusiasm and determination.
Since childhood she has always loved design, looking at the wonders of nature out of the window and dreaming.  Now the dream is to carry artistic handcraft made in Italy (or better, made in Carnia) around the world. Recently, thanks to word of mouth but also to social media, many have gone to find her in this little village among the Alps of Carnia for an interview, many like me fall in love with the story of this woman and her incredible bespoke rugs. And Silvia's smile says a lot about how proud she is of all this. How much does happiness weigh? That of Silvia Di Piazza: 4 kilos (of wool) per square meter.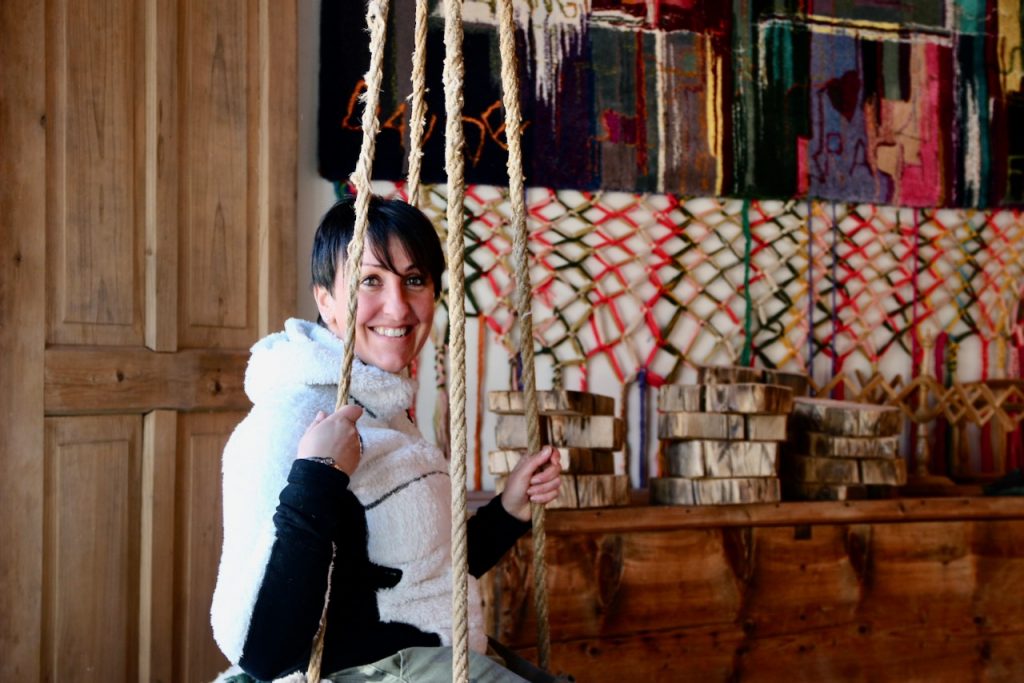 Photo credits: Silvia Di Piazza