Changing the look of a house through a quick makeover with maximum impact. Having the luxury of covering the walls with a lively décor and unusual patterns, often customized in colour and motif ….
The wallcovering trend shows no sign of stopping. Actually, it is playing an increasingly important role among interior design proposals now available on the market.
Wallpaper companies are all over the most influential magazines, featuring exclusive interior projects and spectacular graphics, especially designed for hotels or starred restaurants, boasting collaborations with renowned graphic and fashion designers, artists and illustrators.
We're way beyond the usual floral print: thanks to digital techniques and computer-processed photography, it is now possible to customize wallpaper, making it look so beautiful it's like a work of art.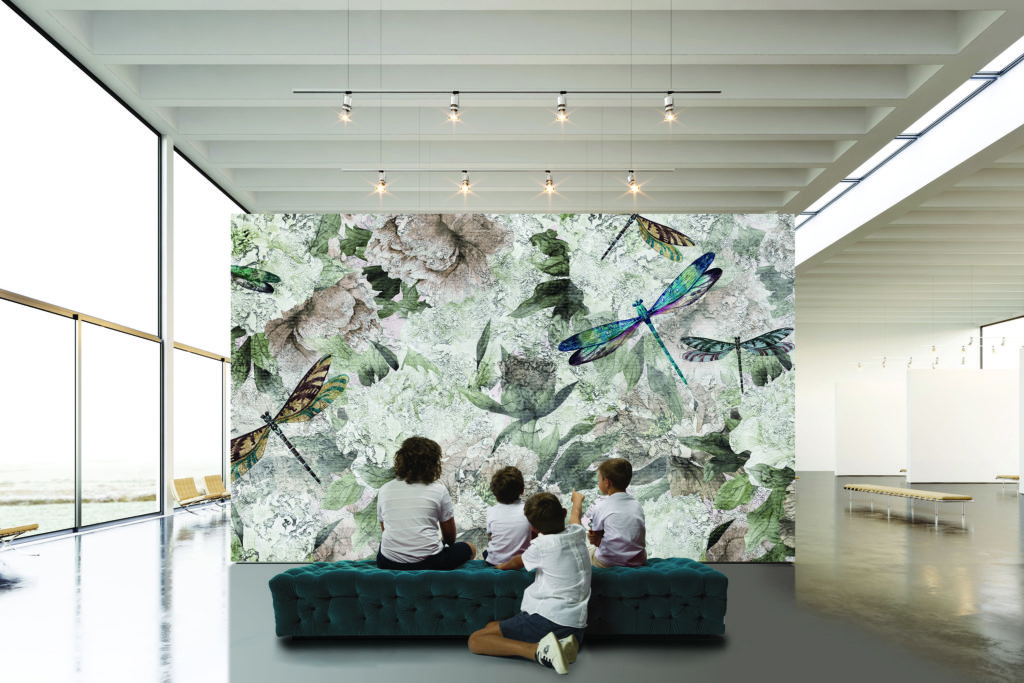 The trend of wallcovering
Many Italian companies are leading this home décor sub-segment.
Take Wall & Deco, for example: seeing the work they showcased for the first time at the Salone del Mobile is what made me fall in love with wallpaper in the first place. And then there's Londonart: I still remember the feeling of estrangement when I visited their booth at M&O: I was just fascinated by the optical illusions and tromp l'oeil motifs. Finally, Glamora is the reason why I enjoy talking about digital printing techniques so much.
Today, I can say I have finally found my "zero Km" wallpaper. I was actually quite surprised to find out that the manufacturer is an amazing company based… just a few steps from home.
Whether you are a rock-and-roll type, an industrial style lover or a romantic dreamer, Instabilelab, with an array of more than 2000 different wallpaper themes, has the right solution for you.
This Venice-based company started off as a creative graphics and design lab, and in no time it conquered a leading position on the market, presenting amazing and engaging motifs and prints. Such as the floral print total look, for example, which you can either use only on your walls or to decorate your furniture and furnishings, too, as well as any other item or surface.
The result will be an extraordinary mimetic, chameleon effect which will make you feel like you were on a movie set. Thus, with no need to use your imagination, you could find yourself in a jungle, an exotic beach or inside a Caravaggio painting!
Instabilelab collections speak the language of art. By blending different subjects, styles and ideas, they adapt to the needs of those who live in the house. The brand's creative offer not only has a strong aesthetic impact and visual appeal, but is also functional.
How about changing a villa's façade? Or adding personality and colour to the salle des bains or the kitchen? Instabilelab offers a wide range of wallcoverings for outdoor use made in Fibratex: a UV ray-, abrasion- and weather-resistant finish. Fibraglass – fiberglass –instead, is suitable for damp interiors, such as bathrooms and kitchens, as it is highly water resistant and easily washable if used to cover surfaces.
The headquarters, located in Santa Maria di Sala, in the province of Venice, is a creative space with a strong visual impact: a sort of a loft – showroom, an open-plan office, a lab where ideas are developed … It's the place where the Instabilelab team holds events for architects and contractors to show them the countless uses and features of its original wallcovering.