Colourful clothes and a smile as spontaneous as they come, creativity and great motivation. Michela Bortolozzi is a young Venetian designer with very clear ideas: to enhance the craftsmanship of her city (and not just that) while pursuing a more responsible and slow tourism.
On a sunny February day, I meet Michela Bortolozzi in her workshop in Campo dei Mori, a few steps away from the Madonna dell'Orto church, a lesser-known corner of Venice yet truly amazing. As soon as I enter, I'm impressed by the colourful creations on display and by the "live-in" work bench, full of wax, moulds and tools, where new candles are taking shape. I immediately realize that I have in front of me a sparkling personality, always on the move and engaged in many activities.
Friendly and hospitable she prepares some coffee, making me at home while she tells me about her artistic path and the several working and cultural projects she carries out in Venice. The preparations for the Biennale, the sculpture courses for art schools, the workshops and many ideas to introduce art to adults and kids: in short Michela certainly has no time to get bored.
But travels and working experiences abroad are indeed the fuel of her creativity. Apprentice ceramicist in Denmark, glass designer in Germany for Utopia & Utility, then in Lisbon for Vasconcelos Studio; in an art gallery in South Africa, even in a small village of Kenya where she taught drawing to children. And finally Morocco, in Marrakech, where in 2013 she took part in a master in Design for Sustainable local development that lit her path to create a dialogue between handicraft manufacturing and local cultures. Since then her focus has become local craftsmanship tied to tourism.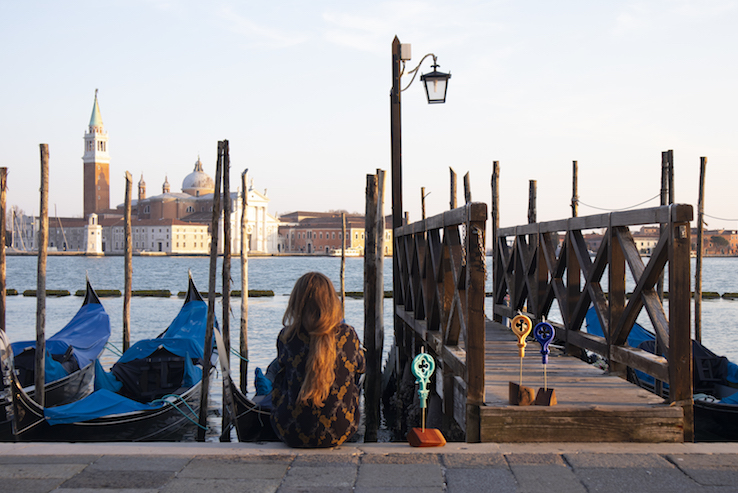 Eat & Run: from lollipops to candles
The project she is particularly proud of (and who can blame her?) began in her beloved Venice and it's called Eat & Run. A strange and provocative name that sets the idea of a conscious and sustainable tourism against the "hit and run" model. Let's think for instance of the destructive consumerism of modern travellers.  Or of the cities invaded by identical cheap objects often made in other countries. In contrast to this model, the goal of Eat & Run is to restore value to local crafts, made with passion and carrying on ancient knowledge and traditions.
And to think that it all started with a lollipop! Now I'll explain more clearly. While still a student, Michela developed a project for an edible form of architecture. She designs walking lollipops inspired by a trio of Venetian buildings which are then produced and sold as souvenirs. This idea makes us reflect exactly on the hit and run tourism concept. «In the same way as the city, the lollipop is desired, bought, consumed, finally losing its form. Hence it's not only a lollipop, but it carries a message».
Later, Eat & Run was enriched by other products always inspired by the architecture of Ca'D'Oro and Palazzo Ducale. This time it's about earrings printed in 3D eco-plastic so that a tourist can wear the memory of the city. And then Re-light Venice candles made with recovered wax. The latter is a collection with a deep symbolic value, , that aims to return the light to an extraordinary city, sorely tried by a difficult historic period with the exceptional high water in 2019 and the Covid pandemic.
Hence the idea of a sustainable tourism which is also expressed in the use of recycled materials, but above all meant as support to local places and local craftsmanship.
Local crafts, global future?
In a continuous flux among completed and recently started partnerships, dreams and desires, Michela confesses to me her ambition to turn Eat & Run into a project with global reach. Drawing from her actual contacts in various countries and always on the look-out for new encounters, the intent is to build a network of craftsmen, designers and artists to realize different objects in other cities of the world.
Curious and open to new cultures, Michela loves traveling, but even more she loves talking to people and then telling their stories through local crafts. In every corner of the world where she has had the chance to travel, she found an interesting handcrafted tradition as a starting-point to create works that are original and full of meaning. For instance, in Bethlehem, within the project Wool not Wall, she created bicolour felt objects using the wool carding technique of local artisans, to raise awareness on the division between Jewish and Palestinian communities. Or even in Morocco where she designed a brass tray that takes up the shape and the network of roads of Marrakech, thus making an original souvenir which is both a traditional and a design object at the same time.
I wonder in how many other places this nomad creative, as she defines herself, could awaken a more responsible and sustainable tourism? For the moment, alas, travels are on standby but luckily thoughts and dreams continue to fly and they never stop. Michela is already thinking of the next destination. Maybe India!?